Are you looking for a free, simple, step-by-step guide on how to start a blog?
My free guide will walk you through the simple steps on how to create a new blog that is elegant and easy to use. all in a simple to follow the step-by-step tutorial (with pictures).
Want to skip the intro and start the simple step-by-step tutorial? Click here to go to Step #1
Are you tired of working your 9-5 having to convince yourself each day that everything is going to be alright on Friday when your check arrives?
Or are you simply sick of looking forward to your off days which fly by, not to mention planning for that nice vacation which seems to never arrive?
If you arrived at this page that's probably the case, but starting a blog and generating an income from it can seem overwhelming and intimidating.
I know that which is why I have put my many years of experience building websites into this easy to follow guide so that you can be well on your way to firing your boss and becoming a full-time blogger.
Simply put, whether you're 10 or 100 if you can read this page, you can create your own blog in about 20 minutes.
You won't need to be a web developer or have some kind of special powers to create your new blog. And if you get stuck at any point, please contact me and I will get you rolling again.
Skip the rest of this introduction and start building your blog now!
What is a blog?
Simply put, a blog is a type of website that mainly focuses on written content, otherwise known as blog posts.
You have probably heard of TMZ, perhaps the most popular celebrity gossip blog on earth, but you will quickly learn that you can create a successful blog on just about any topic imaginable.
For instance, this blog is geared towards the self-development crowd, while blogs such as Show Me The Yummy make thousands of dollars giving away free cooking recipes.
Some bloggers choose to write from a personal perspective, while others prefer to use case studies to push their points across.
The direction of your blog will always depend on you and the type of relationship you wish to build with your audience.
Starting a blog will allow you to build connections with your readers. You will be able to interact and share your ideas with other like-minded individuals.
Doing so will help you build trust with your readers. Building on that trust and loyalty will open up the flood gates to making money from your blog, which is something we will discuss later in this guide.
Should you start a blog and why?
Starting a blog in 2021 is one of the easiest, most cost-effective ways to start your own business and make money online (from anywhere with an internet connection).
There is a misconception that you have to be a professional writer in order to start a blog and have success, but that couldn't be further from the truth.
People who read blogs are looking for solutions to their problems and so long as you are relatable, they will hang on your every word.
You don't need an MBA or years of experience in your field in order to start a blog and be successful.
Today, you can truly become a blogger regardless of your age, color, ethnicity, health, location, relationship status, etc.
All you need is a passion to teach people what you desire to blog about and the perseverance to never quit.
At its heart, blogging is about sharing information with the world. Therefore, it's always good to choose a topic that you are passionate about. This will make the process of starting a successful blog much easier on yourself.
However, if you feel like learning something new and sharing your experience with the world that works too.
So why should you start a blog and start preparing yourself to quit your 9-5?
Freedom: I don't care what anybody says, the best thing about being a blogger is the freedom that it brings. You can work nights, mornings, or whenever you feel like it (no slacking please). And dare I say being able to work from anywhere in the world?
Money: Blogging can be very lucrative and has minimal entry costs. Top bloggers earn millions each year but even if you start out as a part-time blogger you have the potential to earn a great side income. The best thing is that your earnings potential is completely dependant on you. If you don't put much effort, don't expect much, but if you're willing to bust your ass expect great things. If done right, blogging can earn you a great passive income for years to come.
Build Your Brand: Whether you decide to share your story or your knowledge on certain topics, being a blogger will facilitate the growth of your brand or business. As your blog grows, so will your opportunities. Perhaps you start a blog to build your customer base or to get a book deal, in either case, your blog can help you achieve that and much more.
Share your story: Starting a blog allows you to have a voice and be heard by the masses. If you have a skill or story that you feel like sharing with the world, your blog is a perfect place to start.
Time: This goes hand and hand with freedom, but I cannot stress the importance of being able to create a work schedule that allows you to spend more time with your loved ones. Blogging allows you to, but corporate America stopped caring long ago.
So, if you're ready to take the plunge and learn how to start a blog that can lead you on the path towards making money online and quitting your 9-5, let's get into this simple step-by-step tutorial.
How to Start a Blog in 6 Simple Steps
Learn how to create a blog in about 20 minutes following these steps:
Pick a blog name. Choose something descriptive.
Get your blog online. Register your blog and set up hosting.
Customize your blog. Choose a free WordPress template and tweak it.
Write & publish your first post. Let the fun begin!
Promote your blog. Get more people to read your blog.
Make money blogging. Choose how you wish to monetize your blog.
Step 1: Pick your blog's name
Just as with any new business, the first thing you'll need to do is pick a name for your blog.
Otherwise known as a domain name, this is what your readers will see first and it is what they have to type in to reach your blog (like yourname.come).
The quickest way to creating a great blog name is to choose a topic to blog about.
If you're unsure what to blog about, below are some helpful tips:
A personal blog: If you wish to be the face of your brand this is the easiest way to come up with a blog name. The good thing about this is that you can blog about anything you wish without being stuck with a specific topic.
Hobbies and passions: This is the first place to look for inspiration on what topics to blog about if you aren't interested in using your name. Lifestyle, pets, cars, technology, cooking, travel, sports, money, self-help, and celebrity gossip are perfect examples. Even if you are passionate about obscure topics you can build a successful blog because the world is your audience.
Life experiences: Even identical twins have different life experiences. You can find inspiration on a blog topic based on what you have learned throughout your life. A great example is a good friend of mine that I helped start a blog on being a divorced father because he felt that he could help others in this same situation. He has years of experience and first-person knowledge on this topic which he now shares with others. Think about personal experiences that you can share with others to help them get through specific situations.
Now that you have a topic, it's time to pick a blog name.
Unless you decide to use your own name, a good blog name should be descriptive so that potential readers have a good idea of what your blog is about just from the name.
Don't get hung up on a single word though. Just because you are blogging about cars, doesn't mean the word "cars" has to be part of your blog's name. For example, you can use other descriptive words such as "motor" "trucks" "vehicle" "pickup" "jeep" and so on.
The more options you come up with, the better the chances you'll have of finding a blog name that isn't already taken.
Things to consider when selecting a blog name:
Go with .com: This is the most popular. Extensions such as .net, .biz, and .us are not that well-known so most of your readers will automatically type ".com" and therefore might not find your blog if you chose another extension.
Word combinations: Most single-word domains such as cars.com, lifestyle.com, vacations.com, ect are already taken.
Keep it short: The longer your blog name is, the easier it will be for people to make a mistake trying to find you, so try not to go beyond two-word combinations if possible.
Stay away from numbers: Unless you have a well-known brand, stay away from using numbers.
Don't use hyphens: People are not used to using hyphens when typing in blog names, so keep it simple.
You probably have a few blog names by now, so let's find out if they are available…
See if your blog name is available:
Note: Do not use spaces or punctuations in your domain name.
Hopefully you got a green light on your first try, but if your domain name is not available just try another one. Or you can try adding small words such as "my", "your", "the" ect.
Having a hard time picking a name for your blog? Contact me and I will help you (for free)!
Step 2: Getting your blog online
Now that you have a great name picked out for your new blog, it's time to get it online.
To get your blog online you need a web host.
There are many great web hosts out there but I have always used Bluehost.
In order to understand the function of a web host think of it as if you were building a new house.
To build a new house you need to first purchase the land where the house will be built and then you can start the process of actually building the house.
Without having the land, you cannot build the house and that's exactly what a web host does.
They provide you with the space necessary to build your blog. Without a web host, you cannot have a blog.
So why should you choose Bluehost?
Bluehost offers free registration of your blog name for a year ($10 savings). This ensures that no one else can take it.
They offer free, 1-click installation of the WordPress blogging software (which I'll show you below)
Bluehost is the #1 recommended web host provider by wordpress.org, and they host over 2 million blogs and websites.
24/7 USA based customer support. Yep, they speak English.
Affordable. You can host your blog for $2.95 a month.
Free SSL Certificate (This protects your blog from cyber attacks)
30-day Money-back guarantee if you're unsatisfied for any reason.
Click here to register your blog name and set up hosting with Bluehost.
Disclosure: Bluehost compensates me when you purchase through this link at no cost to you, which helps me create this free guide to starting a blog. In fact, if you have any trouble at all setting up your blog with this tutorial, just contact me and I will help you free of charge.
So let's get right to it!
—> Click here to head over to Bluehost and hit the green "Get Started Now" button.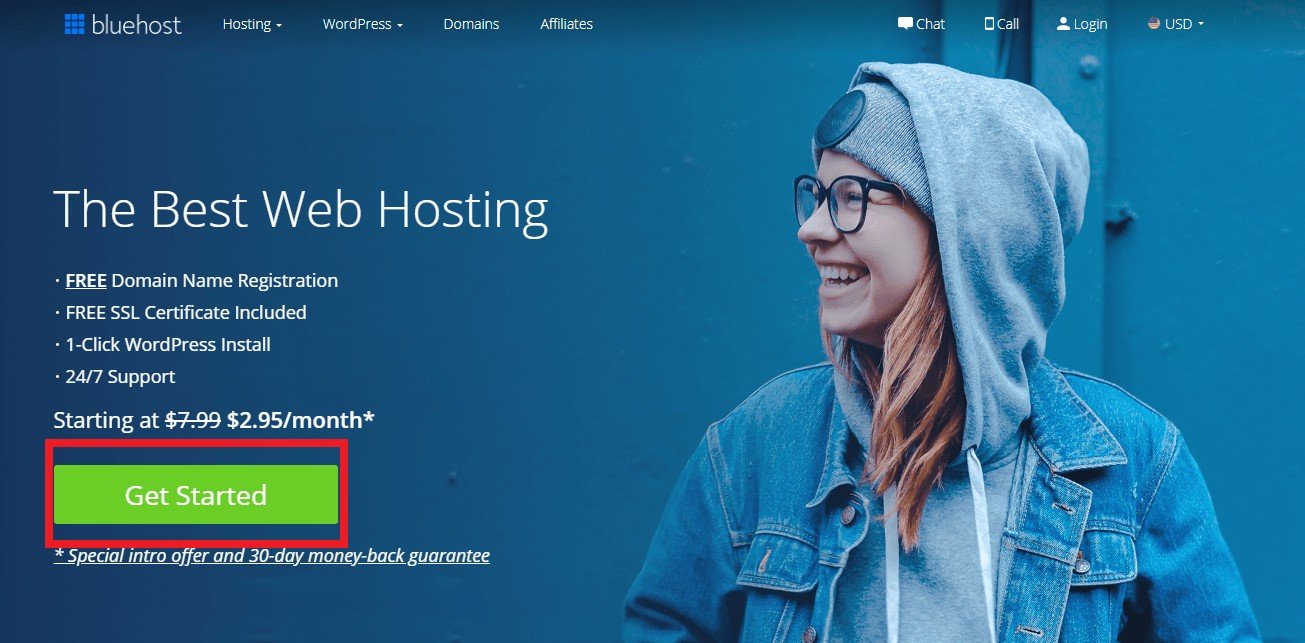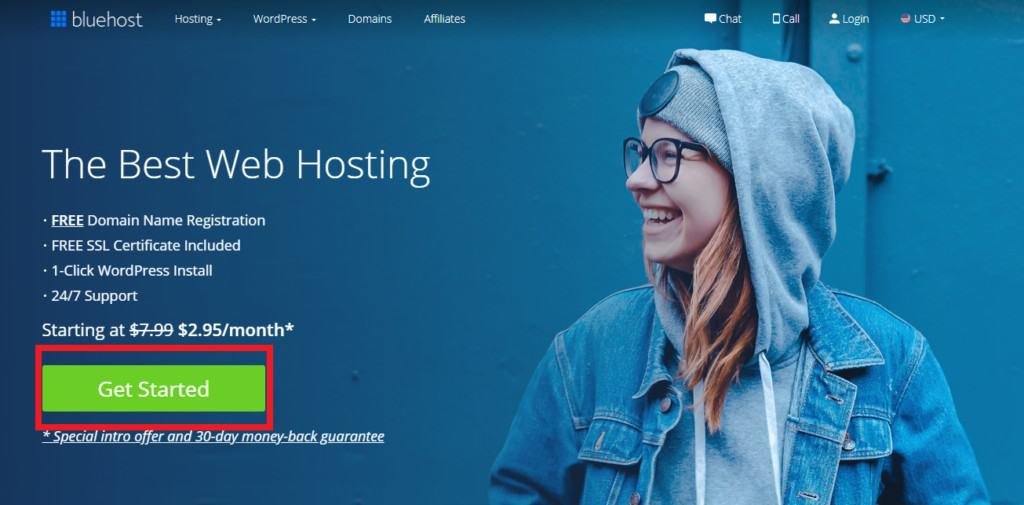 Choose your plan. I recommend that you go with the basic plan to start out.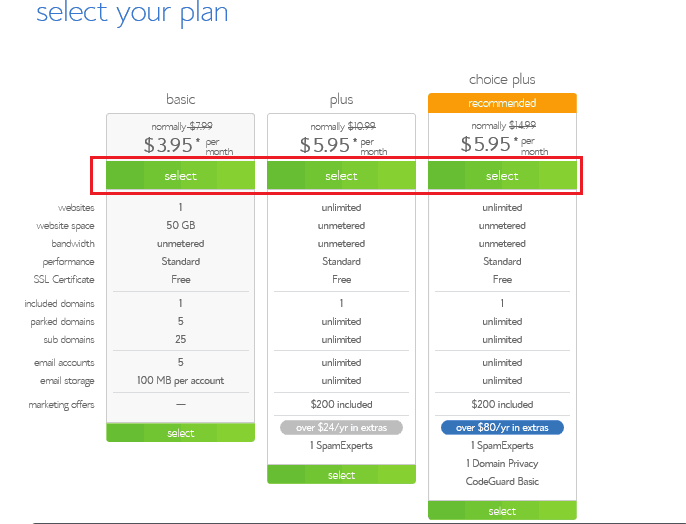 You are free to choose any plan you desire, but unless you are planning to start more than one blog, the basic plan is the way to go.
Type in your blog name (domain name) and click next.
If you have not chosen a domain name yet and need my help with it, just choose later at the bottom of your screen. We can continue with this guide, but be sure to contact me so that we can get you a blog name as we will need it in the end.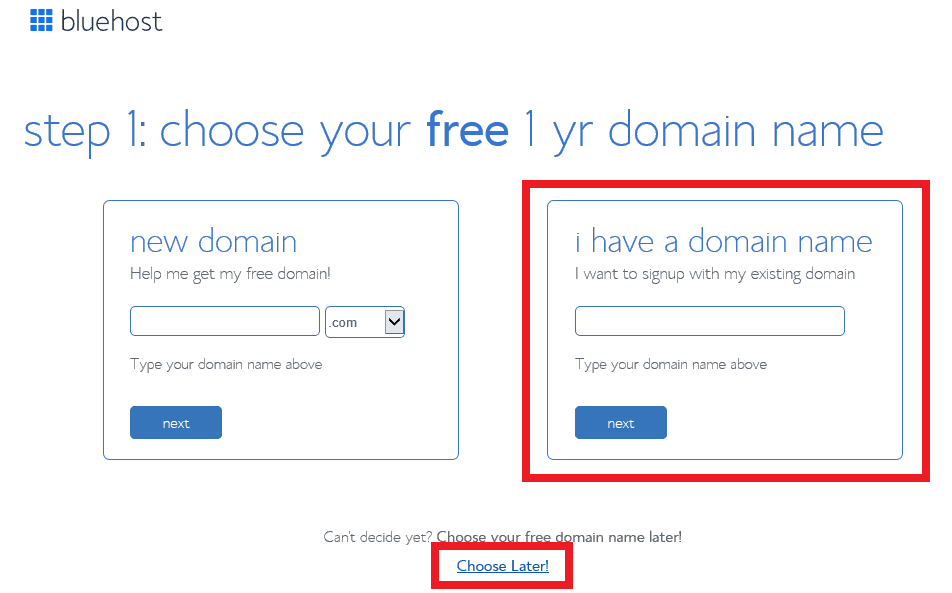 Create your Bluehost account. Fill in all the required information and click submit.
In this section, you will be required to enter your billing information and choose your preferred package.
To get the best deal ($2.65 per month) you are required to purchase hosting for three years. I recommend doing so if you want to take this seriously, however you can always choose 12 months if you prefer to have lower up-front costs.
Pay attention to the package extra section and uncheck anything that doesn't interest you. I recommend you uncheck everything as you don't need any of it to run your blog properly.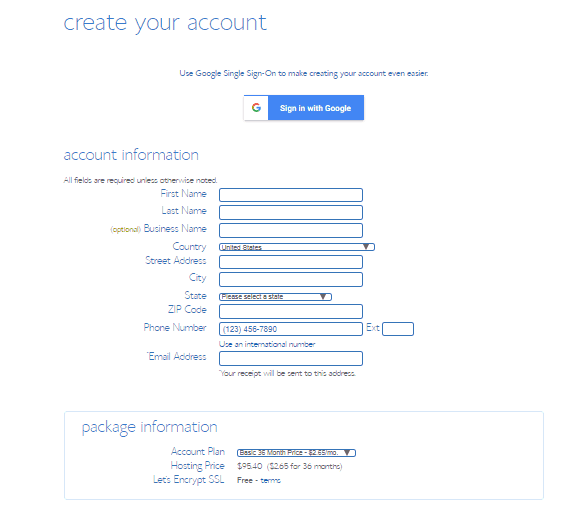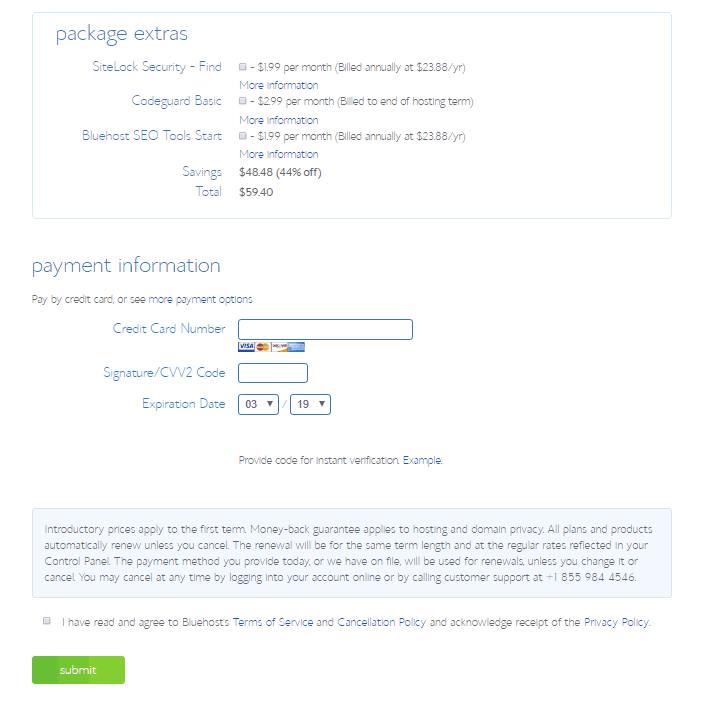 Create your password.
The moment you hit submit on the previous step. Bluehost will ask you to create a password that is to be used every time you want to access your account.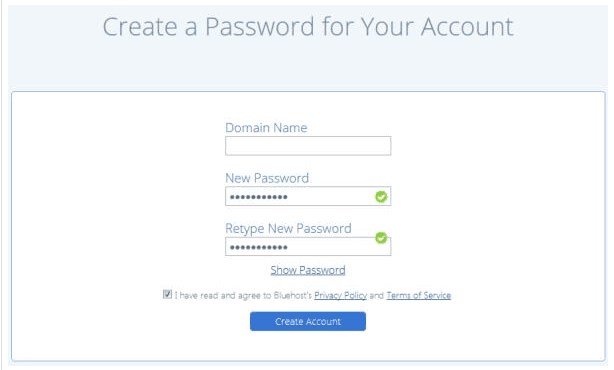 Once you create your password, Bluehost will give you options on basic WordPress design templates that you can use for your blog.
What is WordPress?
WordPress is a content managing system. It's basically the software used to build your blog. It is the most popular blogging platform in the world because of its simplicity and because it allows you to modify everything on your blog without knowing a thing about coding.
I wouldn't spend too much time on this step, just choose something simple. I will show you how to customize and install a new template in the next section.
Step 3: Customizing your blog
In this section, I will teach you how to install a new WordPress template and customize it so that your blog looks just the way you want it.
First, go to your Bluehost account and login.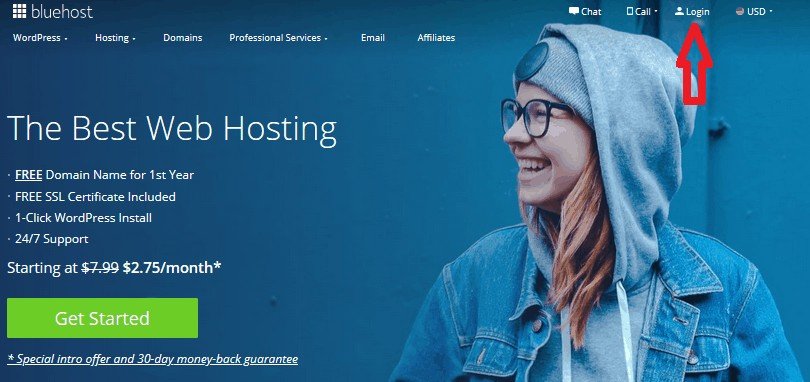 Once inside your account (or dashboard) as Bluehost likes to call it. Log in to WordPress.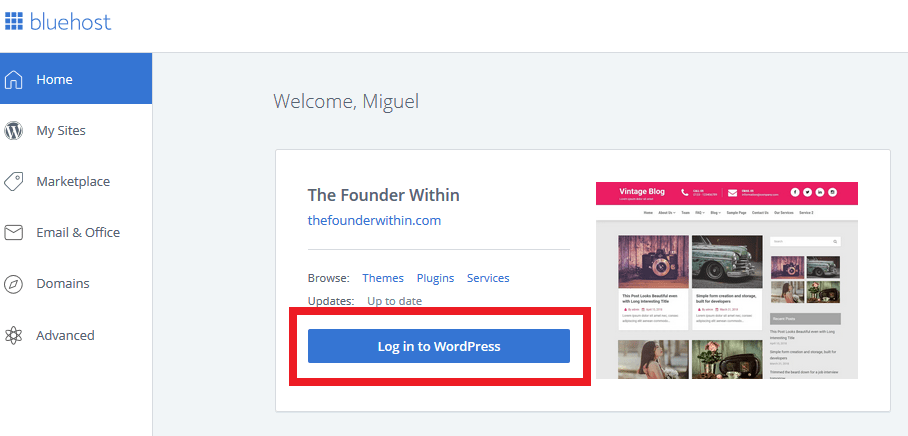 You will now be taken to your WordPress dashboard.
This is where you can make changes to your blog's design, create new blog posts, and install software (plugins) that make your blog run smoother.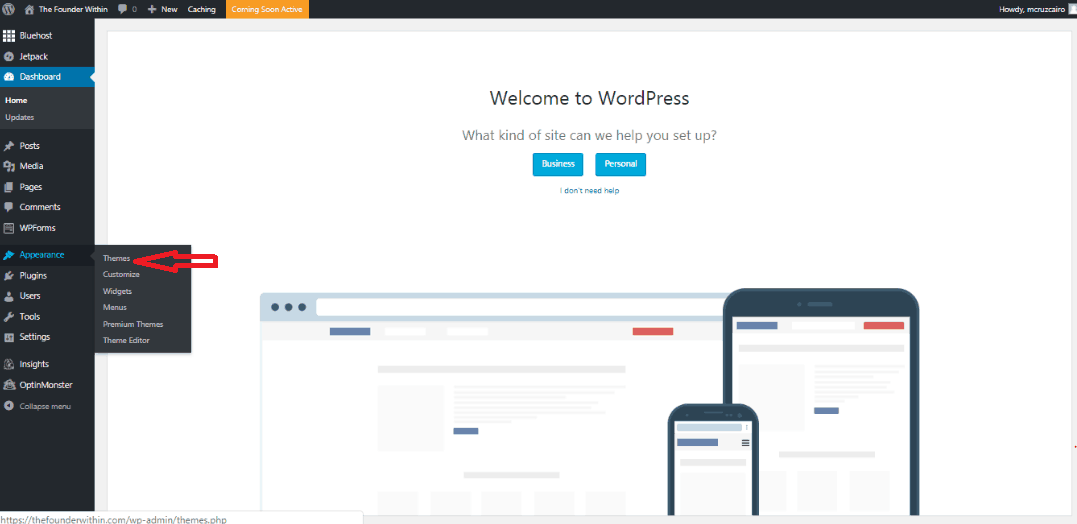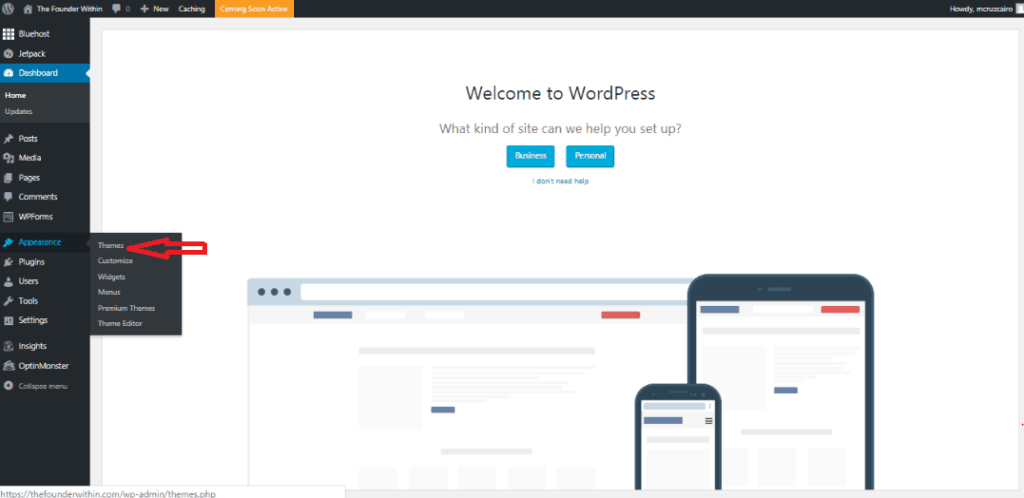 In the themes section of your WordPress dashboard you can change your current theme or add another one.
This is why I told you not to spend too much time choosing a template earlier as we can now change it or modify it as needed.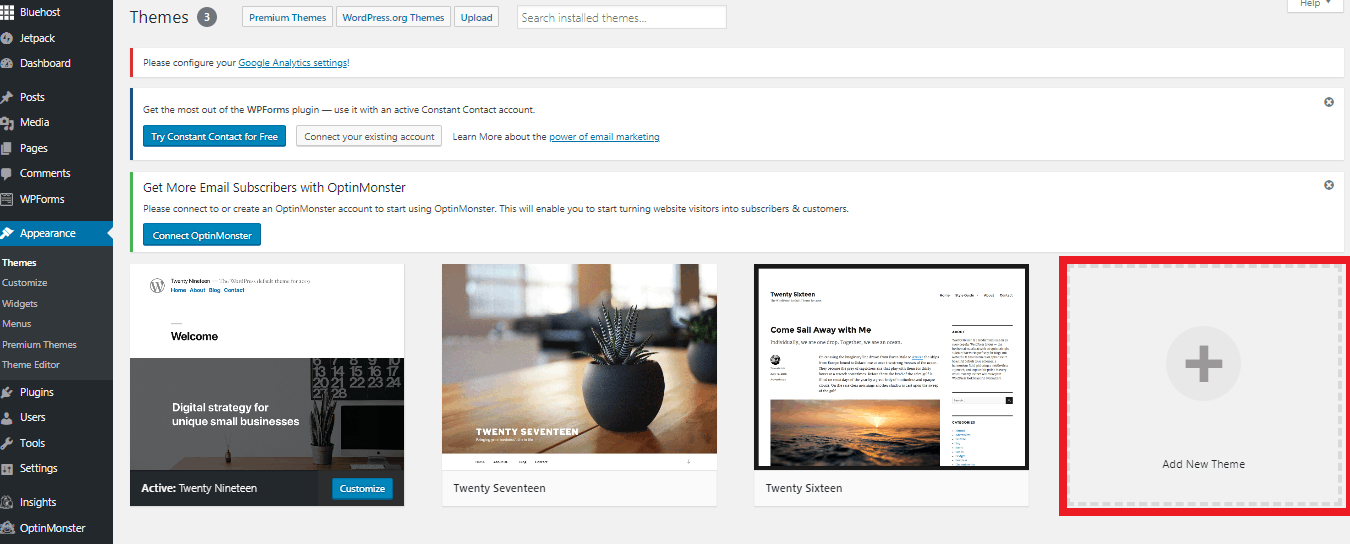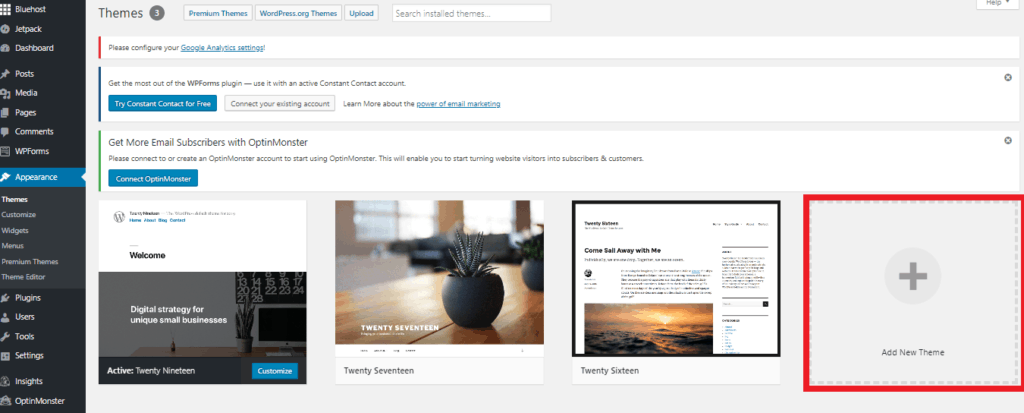 If you don't like the theme you chose earlier, click on add new them and search for you that better suits your needs.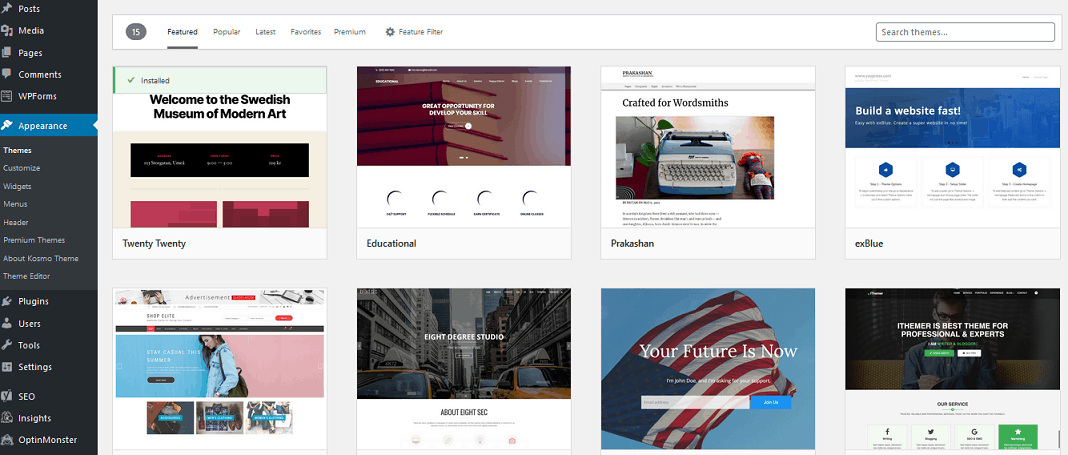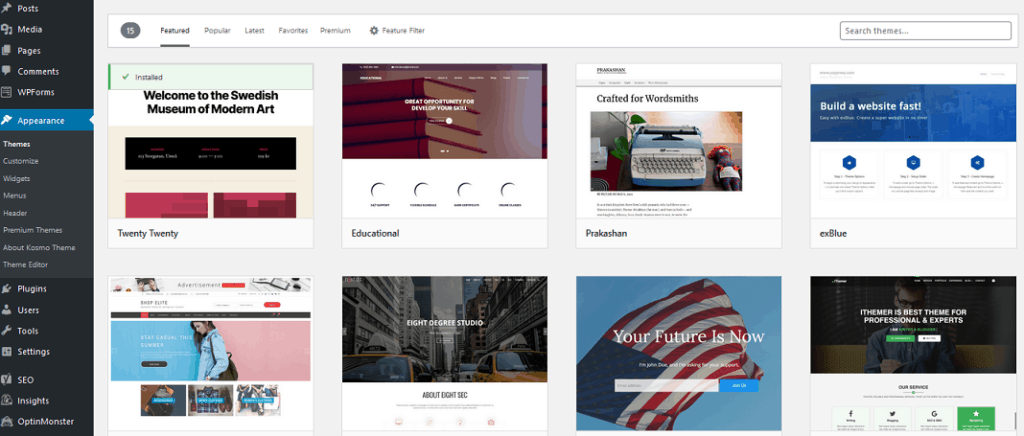 You can scroll around to see if you see a theme that you like or search for something specific by using the search feature at the top right.
Once you find a WordPress theme that you like, click on it and activate it.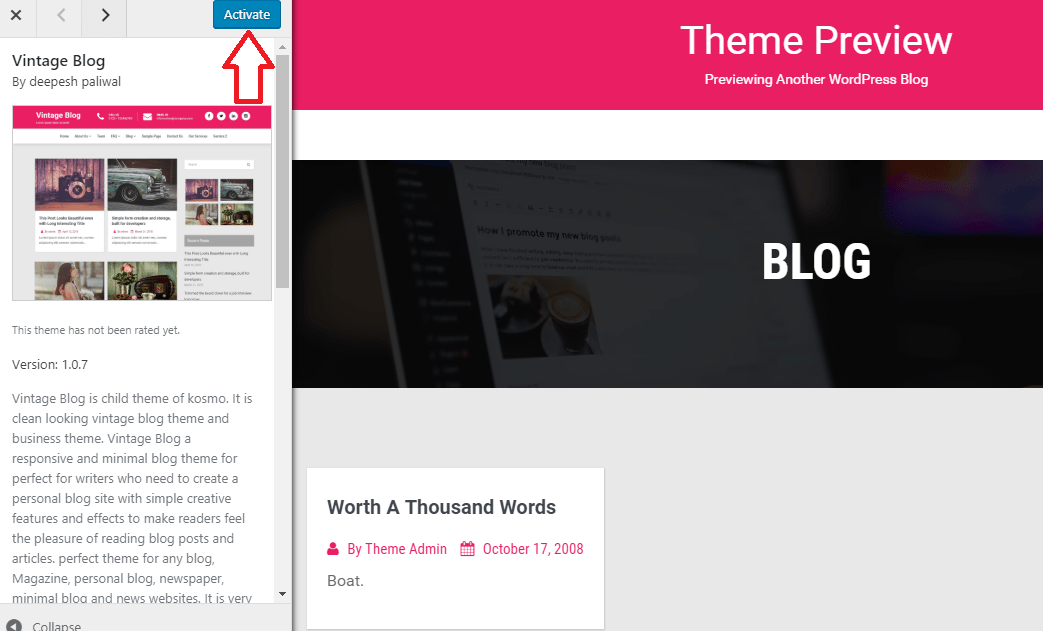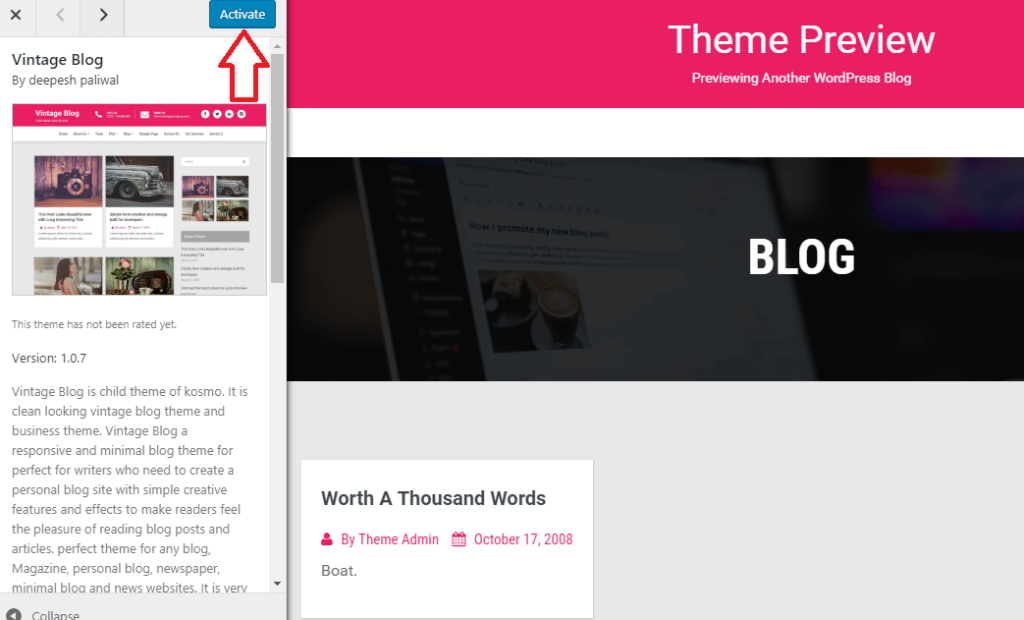 Now that you have the WordPress them of your dream for your new blog, it's time to personalize it.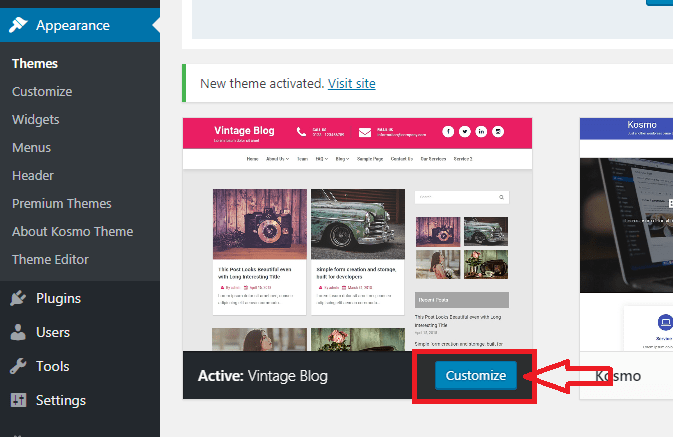 Go to > Appearance > Themes > Customize.


In here you will be able to change anything you want.
Have fun making changes and don't worry about messing things up as you can always go back and change things to your liking.
Now let's make sure your blog is online: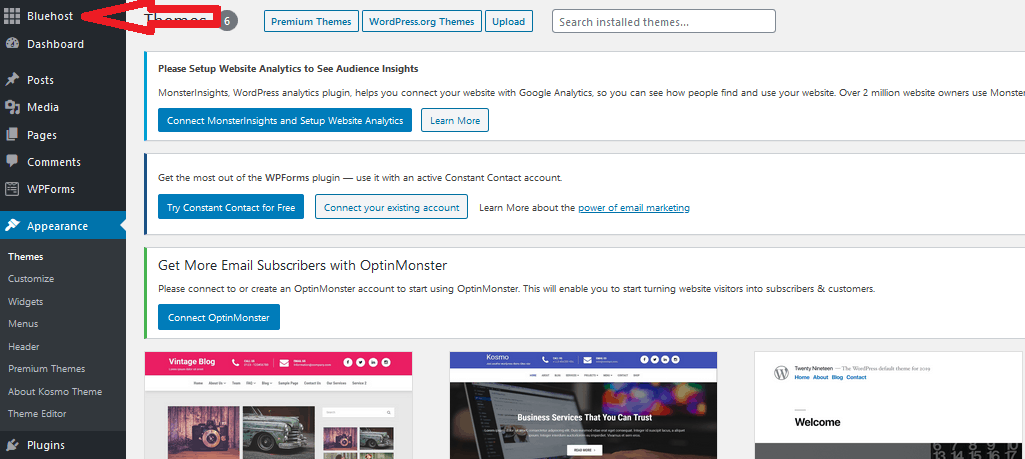 Now click on "Launch your site."

And that's it. You are officially a member of the blogosphere.
Did you have fun or are you struggling with something?
Hopefully, everything is looking the way you want, but if you are struggling with something feel free to contact me.
Now let's get you writing your first blog post.
Step 4: How to write and publish your first blog post
Hope you had fun learning how to start a blog.
However, you and I know that an empty blog is of no use to anybody. So let's get your creative juices pumping and create your first blog post.
From your WordPress dashboard go to Posts and Add New.


Here you can write and edit your post.
Things to keep in mind while writing a blog post:
Write for your intended reader, not for yourself. Remember that the point of a blog is to share your ideas to solve other people's problems and hopefully make some money from it so write to your audience, not yourself.
Use pictures and graphs to help illustrate your point whenever possible. The more visually appealing your content is, the more people will engage with it.
Try writing more than 1,000 words per blog post. This ensures that you are being thorough with your subject and makes it easier for Google and other search engines to send you traffic.
I wrote a detailed post on one of my other blogs called "The Epic Content Machine" which can help you better understand how to write truly great content.
Once your post is ready click on "Publish."


Congratulations! You now know how to start your own blog and publish a new blog post.
Step 5: Promoting your blog
In a perfect world, you should just be able to pump out new content and wait for the money to start pouring in.
However, if that was the case everybody would have learned how to start a blog and become a blogger.
If you expect to make money from your blog, you will need to promote it.
Below is a list of places where you can promote your blog:
Social media: Facebook, Instagram, LikedIn, Pinterest, Twitter, ect.
Q&A Sites: Yahoo answers and Quora.
Agreggator sites: Reddit, Digg, and Tumblr.
Influencers: Directly contacting influencers in your niche.
Some bloggers try to do it all at once, but I recommend that you master one or two ways of promoting your blog before going all out.
As the old saying goes "Jack of all trades, master of none."
Become the master!
This is too big of a topic to cover here, so if you want to learn how to properly promote your blog posts make sure to check out my guide on what to do after publishing your first blog post.
Step 6: Make money blogging
Once you learn how to start a blog, create great content, and promote it, the only thing left is to start making money.
I will be honest with you. Most bloggers never make a penny. The reason being that they become bloggers with the idea that they can half-ass everything and earn millions.
This is a misconception that's sold by many marketing gurus when they are selling their "secret sauces."
There are no secret sauces or shortcuts. Just like with any other business, if you don't put your best foot forward expect failure and nothing else.
Quitting your 9-5 might sound great, but don't expect to replace your salary by becoming a blogger overnight. It takes time and lots of hard work, but I can tell you from personal experience that it is well worth it.
My best advice to you is to continue working while you get your blogging business off the ground. Once you are sure that you can make it work, fire your boss and never look back.
So how can you make money as a blogger?
Affiliate Marketing: Earning a commission every time your readers purchase other people's products or services.
Blog Ads: Getting apid to place ads on your blog. This works best with established blogs that have lots of traffic.
Freelancing: This is where you can sell your services. You can be a consultant, writer, guide, or whatever you choose.
Physical Products: Selling your own products.
Sponsored Blog Posts: Many companies out there pay good money to sponsor posts that they believe will earn them more sales or bring awareness to their products. This is another service that works best for blogs with lots of traffic.
Digital Products: Selling things such as e-books, audiobooks, courses, and son.
Blogs: If you get good at this, you might find that flipping blogs is the way to go for you.
That just scratches the surface on how you can make money from your blog. Depending on what you decide to blog about, the possibilities are endless.
If you want a more in-depth guide on how to make money from your blog be sure to check out my post on 9 ways to make money from your new blog.
Need more help?
I hope this guide answered all of your questions on how to start a new blog, but if you are having trouble with anything or just have a question that I didn't answer contact me and I will do my best to help.
Thanks for using my guide on how to start a blog. If you wish to learn more about blogging stop by BloggingPals. On that blog, you can learn more about starting a new blog, promoting it, and making money as a blogger.
Lastly, if you need to hire a web design company to help you create your blog or business website, I recommend that you use Unique Web Designer, a Miami web design company that helps businesses with all of their online needs.